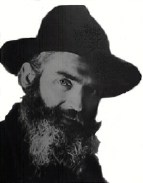 Jan De Cooman was born in Zandbergen (Belgium) on august 4 1893, as the forth and youngest son of Leopold and Louise Heylemans.
Father Leopold De Cooman was headmaster in the municipal school of Zandbergen. The family De Cooman, belonged to the prosperous catholic commons. Jan went to the townschool of Zandbergen and then headed for the 'Rijksmiddelbare' school of Ninove.
The drawing talent of the boy must have been noticed. His first sketches were lifelike: trees, houses, meadows and fields of the beautiful landscape of the Dender river. A landscape that would fascinate him during his whole life. His uncle Jan Heylemans, painter and teacher at the academy of Sint-Gillis Brussels, could persuade his father to send Jan to the academy of Belle Art in Brussels. During five years, from 1908 till 1914, he went to school there. He was largely influenced by his teacher Constant Montald (1862-1940?), who was a meritorious painter of landscapes, interiors, still life and portraits - the genres that will be painted by Jan De Cooman later on.