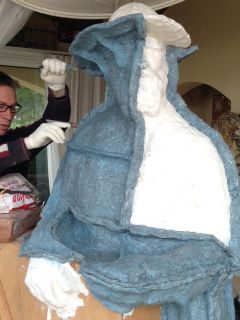 From now on it is getting serious!
Katharina De Cooman has finished modeling and sculpting and has finalised the clay model in actual size of what should become the bronze statue of Jan De Cooman. The founder can therefore start faster than originally planned and generate the technical implementation of the moulds.
This is truly an international project: bronze founder, Hans Steyl Aert from the Dutch Waardenburg ensures the realization of the statue. He traveled to France in Provence where the artist Katarina De Cooman designed the statue. There he is currently making a copy of the sculpture. Afterwards in his studio he will produce a "lost mould" and the actual bronze statue.
So, the work is progressing well.
We hope for a lot of attention during the unveiling at the town square of Zandbergen on September 10.